Voting systems rental
The full price list of renting IT and media equipment can be found in the "Price list of renting IT equipment" section: "Click".
The advantages of renting the voting and examination systems.
Organizacja konferencji czy szkoleń wymaga nie tylko profesjonalnego zaplecza komputerowego, ale także odpowiedniej interakcji uczestników. Jednym ze sposobów jej zapewnienia jest wynajem systemu do głosowania, który wspiera nie tylko proces uczenia, ale jest także idealnym sposobem na sprawdzenie wiedzy czy poznanie opinii uczestników spotkania.
Our voting systems intended for renting, facilitate the voting process, help in conducting tests and quizzes during conferences, trainings, shareholders' meetings or all kinds of surveys and public opinion polls. Voting machines are also ideal for examinations, all kinds of tests, surveys, quizzes and interactive games.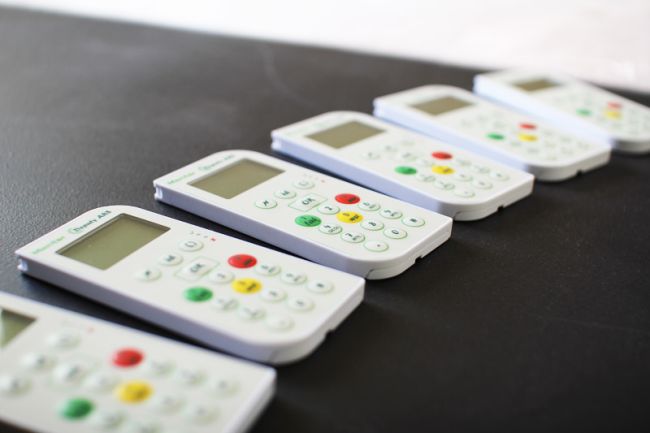 Due to the voting systems the participants' involvement in the training can be increased. The speakers' opinion will be known and a high statisfaction level will be gained by participants who take active part in the training. The systems enable checking the participants' opinions before and after the presentations. That is why, the effectiveness of the meeting can be assessed in a simple way.
How is the voting carried out?
The participants of the conference vote using wireless voting pads. Voting pads used for testing and voting are modern, interactive equipment which operates along with high quality vote counting software. Rented voting pads are simple and easy to operate. Buttons on such voting pads can be configured in many ways making them at the same time very functional. Reports and results of the carried out voting can be depicted on the colourful charts.
Exemplary use of the voting system.
Our company provides the services across the country. The rented voting systems can be adjusted to the following events:
opinion polls during meetings; questionnaires and surveys during the conferences and trainings
shareholders' meetings
city council meetings
committee meetings
votings of public administrative bodies
the meetings of the board of trustees at universities
examinations and school tests
trainings
presentations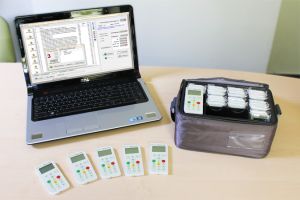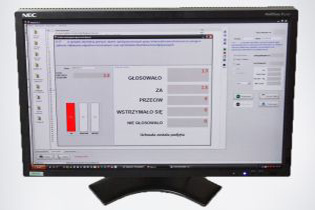 The most important features of voting systems:
We offer professional and wireless voting systems which can be configured and adjusted to the individual needs of customers. The main features of the voting and examining system:
Radio communication on 2,4 Ghz frequency, which guarantees strong signal and lack of any interference during voting time
Many voting procedures: multiple choice, confidential and open
Carrying out questionnaires, surveys, opinion polls, speakers' evaluation, or other types of research
The possibility to vote in parliamentary voting procedures (for, against, abstain from voting)
The possibility of granting the rights to every user and preparing a list of participants taking part in voting/examination
The possibility of matching the importance of each vote
Full freedom in the preparation of slides consisting of questions and answers
Voting results are available in formats allowing for a later edition
The possibility of the presentation of voting results on smart bar graphs or pie charts
Intuitive and simple to operate voting machines
The results can presented on LCD screen or projection screen using projector.
Voting reports can be stored in a data base or printed out
Elements of the voting and testing system
Wireless voting pads
Wireless voting pad with LCD display
Desktop
Functional software for voting and examining
Necessary technical documentation
The voting systems are supplied with necessary technical documentation and software. The whole set is provided with wireless voting pads. Preparing the equipment for the organized event is just a half way to success. The crucial thing is to have the relevant software installed to make it work faultlessly. If there is such a need, our IT specialists will transport, hook up and configure rented voting system.
WynajemIT.pl offers renting of computers, laptops, media and sound equipment as well as voting and examining systems. The rented IT and media equipment is available in various specifications. We have a huge number of equipment which enables us to serve big events in a professional way. If you need any help, contact us. We will give you advice about renting computers, printers, monitors or any other necessary media equipment.