Renting of tablets
WynajemIT.pl is a rental shop of IT and media equipment. We rent laptops or desktop computers together with LCD monitors. We also rent media equipment such as projectors, TVs and tablets.
You can rent

| | |
| --- | --- |
| Tablet [T1] | Tablet Samsung Galaxy Tab 3- screen WXGA 10,1 1280x800px, WIFI, 3G, camera, Android 4.2 |
The full price list of renting computer and media equipment is available in "The price list of renting IT equipment" section.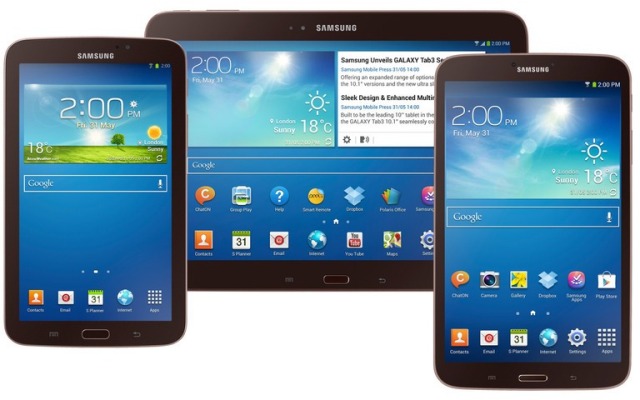 In our offer of renting tablets we have the following devices:
Tablet Samsung Galaxy Tab 3: it allows to create and edit the business documents. It has the functionality of the typical laptop or computer. Requirement specification: highly productive Intel Atom processor, Android 4.2, 10" capacitive touch screen, compact size and business look. It has 3G and Wi-Fi access.
Advantages of renting tablets
Tablets are tools dedicated to professionals. They are irreplaceable during business meetings or presentations. The tablets rented by our company are not only light and handy, but also have an elegant appearance. It is the ideal offer for professionals who spend much time working standing up rather than sitting at the desk. Tablets are a perfect combination of comfort and effectiveness allowing us to achieve more regardless of time and place. Tablets provide fast access to relevant information making the presentation easier.
Internet access in every place
The rented tablets can be connected with wireless WI-FI or can be equipped with the Internet access. It allows to extend the use of the rented tablet for more functions such as web browsing, Skype calls as well as receiving and sending emails.
Rented tablet- 100% mobility
Very often a busy car park, conference room or a noisy railway station is the working place for mobile employees. Rented tablets make it possible to access the Internet and due to Android system the work can be done in any of these places.
Rented tablet can be used during:
business meetings
presentations
business meetings with clients
public opinion polls (carrying out questionnaires or mobile voting systems)
trainings, symposiums, conferences
Are you interested in renting the tablet?
Ask about the valuation and details concerning tablet renting.
Other users were searching under the following entries for: renting tablets, tablets rent,
Tablets and IT equipment renting services are provided across Poland to localisations such as: Białystok, Bydgoszcz, Częstochowa, Gdańsk, Gdynia, Kalisz, Katowice, Kielce, Kraków, Lublin, Łódź, Olsztyn, Ostrów Wielkopolski, Płock, Poznań, Radom, Toruń, Warszawa, Wrocław, Zielona Góra.